Nationwide Market Stall Hire

ADD A SPLASH OF COLOUR TO YOUR EVENT NATIONWIDE SELF ASSEMBLY MARKET STALL HIRE
FULL STALL KITS 1.8m x 0.9m 5 MINUTES TO ERECT 4 COLOURS TO CHOOSE

FROM £39.00 INC VAT PER STALL
As established manufactures of market stalls we've identified a need from customers who need a market stall or stalls for a one off event, series of events or who don't want to invest capital in market stalls that perhaps aren't going to be used very often. To fill this need we've developed a stall that's attractive, quick to erect, cost effective, that can be stored, delivered and collected in their own carry bags to the customers door.
So whether you need one stall for a market of many units for a weekend event our self assembly stalls are the answer...
---
WHAT DO YOU GET?
Taking only 5 minutes to erect our hire stalls consist of a 1.8m x 0.9m zinc plated steel frame containing only 16 pieces, plywood table top boards, flame retardant PVC roof cover and table skirt plus all necessary fittings.
Our Hire Stall Kits Include:
Zinc plated frame, PVC roof and table skirt, plywood table top boards
1.8m x 0.9m (6' x 3') table area, 0.45m (1'6") overhang front & rear, click here to see a frame diagram with measurements
PVC covers are flame retardant
Waterproof striped PVC covers in 4 attractive colours
Frames and covers in wheeled roller carry bags
---
DOWNLOADS
---
DONT FORGET ACCESSORIES ...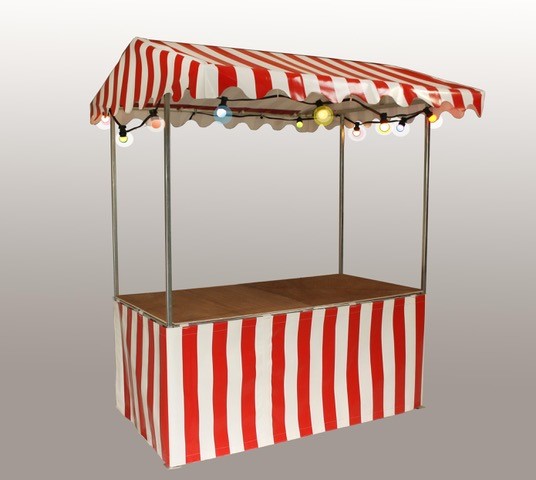 Lighting
A 7.5 long festoon harness consisting of 10 coloured globe lamps spaced at 50cm on a flexible rubber cable. Comes with a 3 pin plug and can be clipped (clips not supplied) in place.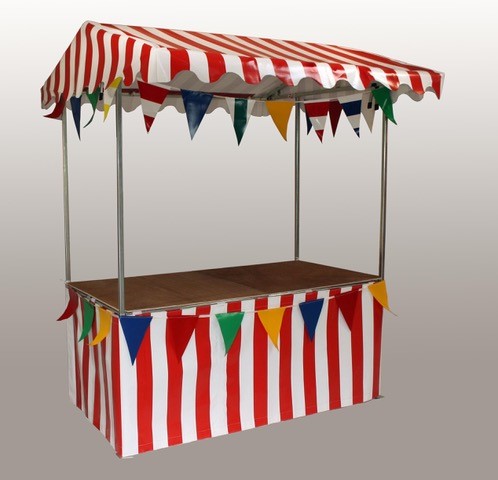 Bunting
Two 3.6m long lengths of coloured pendant buting which can be hungin place as desired.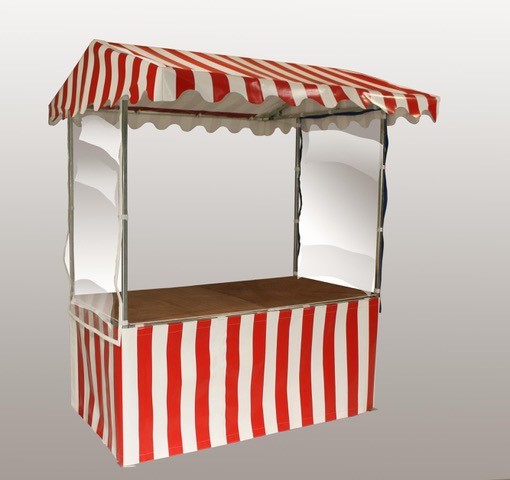 Side Panels
Two glass clear side panels, one for each end of the hire stall which are velcro tied into place. These panels give protection for the elements for the trader whilst ensuring visitors can view the goods on sale as they approach.
STEP BY STEP GUIDE TO THE STALL HIRE SERVICE
Fill out the online stall application form and we will send you a quote.
Once you accept the quote we arrange for the correct number of stalls to be delivered just before the event on a day that suits with the frames,
covers and fittings neatly packed into wheeled carry bags so you can move them around your site, the table top boards have separate carry bags.
You erect the stalls with 2 or more people using the easy step by step guide.
Once the event is over you dismantle the stalls and pack them back into the bags and we will arrange a collection for the next working day.
---